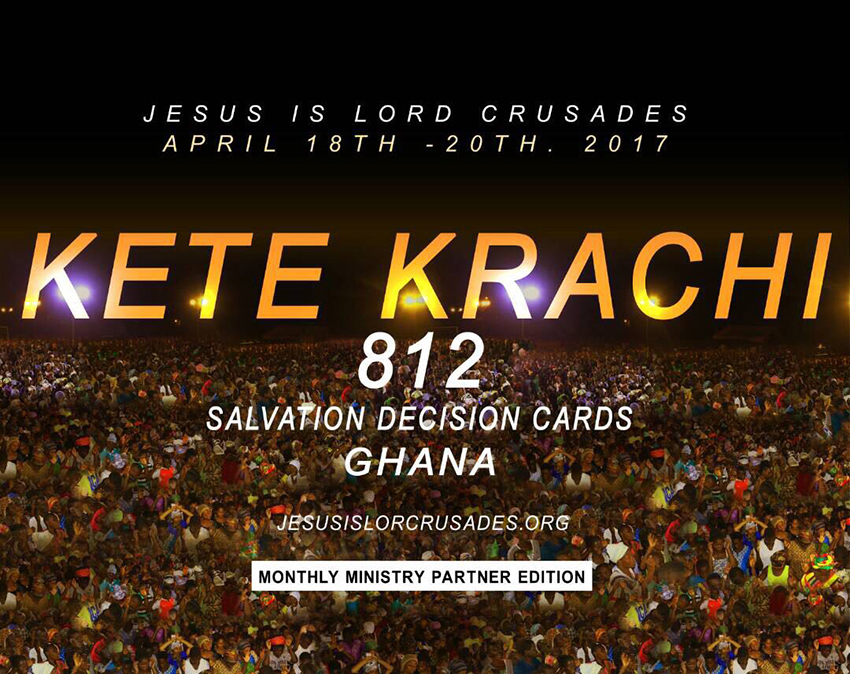 Dear Friend,
The Bible describes one of the most remarkable spiritual confrontations in history: Elijah's encounter with Baal's priests. Even for us  today, this account is very dramatic to read. But what was Elijah really after? His heart's desire was for people to return to the one true God. To God be all the glory for the souls (812) He has drawn unto Himself during last week's crusade in Kete Krachi, Ghana. 
The same thing that motivated Elijah also motivates us. People need to see that Jesus is the true God. We want to lead them to Him! That is exactly why we, the JILC team, preach the Gospel unashamedly, boldly and with everything inside of us. We truly expect amazing things to happen in the coming months and years.  The Kete Krachi Crusade was filled with many challenges and obstacles, but the Lord gave us victory after victory. Thank you for standing with us so faithfully in prayer. We are shoulder-to-shoulder in this harvest.
Would you consider supporting us monthly towards the Gospel Crusades. Our monthly partners help us to plan our crusades ahead of time. This year we are looking at purchasing our own Crusade equipment.  The cost of rental digs deep into our budget and with the crowds increasing per crusades it's time to invest in our own. We need your help to make this happen.