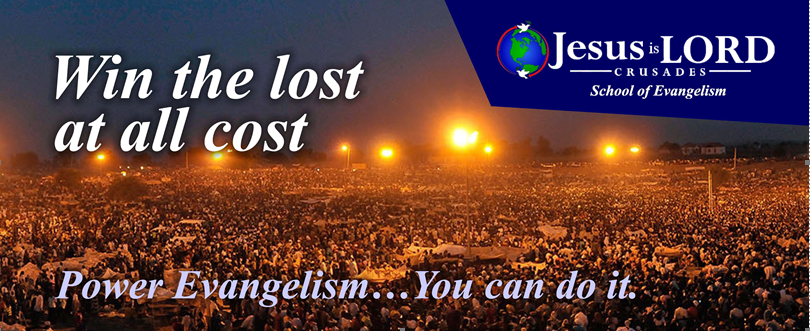 Making Disciples...One Soul at a time. Jesus has called each individual to go and make disciples. Through the Power of the Holy Spirit, we have all the tools we need and more... You can do it-we'll show you how...
About Us
The Jesus Is Lord School of Evangelism (JILSOE) is designed to help Christians share their faith effectively. The experience and expertise acquired by our renowned teachers of the Gospel are made available to all students. More importantly we trust in the power ofthe Holy Spirit to empower each you.
Who are the students?
Statistics show that only a small percentage of Christians take the mandate to share the good news of Jesus Christ. This can be as a result ofmany factors-
Do you feel afraid and lack the ability to talk to others about your faith? And ifyou do take that step, are you unsure about what to say or how to lead a person to Christ?
The JILSOE's approach is practical and you will be thought on how to make Evangelism a lifestyle. This one-day workshop will help students rediscover the joy ofEvangelism and Soul-winning.
Why JILSOE?
This is an opportunity to learn the basic principles of evangelism and soul winning. This is done in God's way and you will receive step-by-step approach from one oftoday's best-known evangelists.
We will take you on the mission fields to discover our easy and fulfilling it is to lead someone to Christ. You will be blessed to learn how evangelistic campaigns are organized - This Seminar has been packaged to help students discover new dimensions offaith.
Curriculum
Follow your own four-point plan and become a successful soul-winner!
The basic principles of evangelism and soul­ winning: Teaching about the fall of humankind and God's great plan-our salvation
Methods and principles of global evangelism: There are many different global evangelistic methods but the principles are always found in God's word (the Bible) 
God's word and the Holy Spirit: Not by might nor by power-the Holy Spirit and evangelism
Personal witnessing and evangelistic outreach: Preaching-you can only give what you have!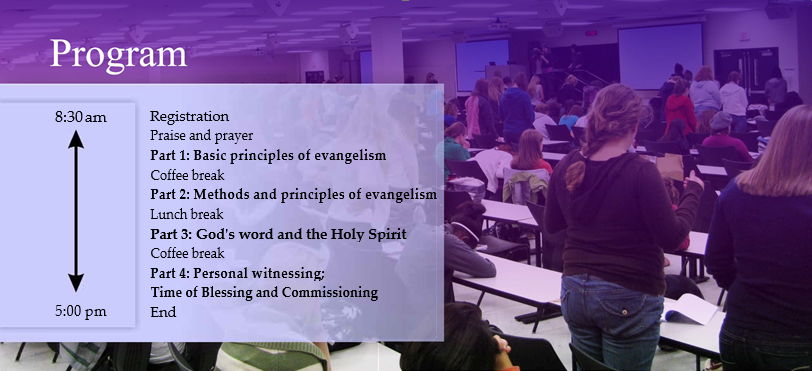 Duration
The one-day seminar lasts from 9am until 5pm and closes with a prayer of blessing and commissioning.
Fee
We welcome your group or church to gift a love offering towards the Jesus Is Lord Gospel Crusades held around the world. Call us to arrange out of State and Country Seminars.
Seminar materials:
Jump-start: Six week course study book on Soul winning ($10 value)
2 First Important Step Helps Booklet (F.I.S.H)
SOE Certificate
Lunch
Bring along a personal note book and pen
Seminar materials package Fee of $50 per individual
Venue
These seminars are held at various Christian church fellowships. To find a venue near you, please visit our website.
Registration
choose one of the following:
 

  online at www.jesusislordcrusades.org

   e-mail  to office@jesusislordcrusades.org

   call us at+1 301-679-5554